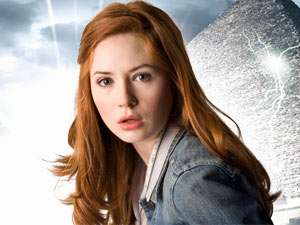 Karen Gillan has joined the social networking website Twitter, under the username of
@KarenGillan2
.
The actress gained over 10,000 followers within one hour of her first tweet, and immediately became a trending topic in the UK.
Her
first tweet
: "Hello twitter...nice to meet you."
Steven Moffat
confirmed
the authenticity of the account: "Stand by, the web - it's really her. @KarenGillan2"
Gillan is currently following Moffat and her Doctor Who co-star Arthur Darvill.
According to a
tweet
by Doctor Who Magazine, journalist
Benjamin Cook
is attempting to recruit Matt Smith to the website: "DWM's very own @benjamin_cook is working on getting Matt Smith on Twitter too. What do you reckon his chances are...?"