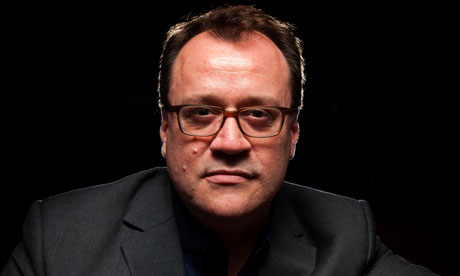 The BBC have commissioned a new twelve-part CBBC series
Aliens Vs Wizards
which has been created by Russell T Davies.
The series has been developed by Davies along with Phil Ford to replace
The Sarah Jane Adventures
, which ended last year following the death of Elisabeth Sladen.
From the dark side of the moon, aliens are scanning the Earth searching for magic and are prepared to destroy everything in their path to get it. All that stands in the way of Earth's imminent destruction are two 16-year old schoolboys, Tom and Benny. It's Ray Guns vs Wands; Science vs Magic and Aliens vs Wizards.

Russell says: "Writing for children is the biggest challenge of all and I think CBBC stands right at the heart of broadcasting. So I'm delighted to launch this show, a true nationwide collaboration - a Salford commission from a BBC Wales team. We're joining genres too - the show's a wild, funny, thrilling and sometimes scary collision of magic and science fiction."

Tom Clarke lives a seemingly ordinary life with his dad and grandmother. However he hides a deep secret - Tom's family are wizards and when the Nekross arrive, hungry for magic, they find themselves on the menu.

The Nekross may be equipped with ray guns, teleports and high-tech robots but they haven't reckoned on Tom and his friend, science super-brain Benny. They form an extraordinary duo, using Tom's magic and Benny's science to battle the Nekross and save the Earth.

Russell adds: "Wizards have never met aliens before, and when they do, the result is spectacular! The mysterious Nekross know exactly what to do with magicians. Eat them! Let battle be joined!"

CBBC Controller Damian Kavanagh, who commissioned the new series, says: "This is going to be an incredible rollercoaster ride of an adventure. We believe children deserve the best and we're delighted to be working again with Russell and the talented teams at BBC Wales and FME to bring the story to life."

Faith Penhale, Head of Drama BBC Cymru Wales, says: We're so excited to be working with Russell again on this ground-breaking and hugely ambitious drama for CBBC. Filmed here in our brand new studios in Roath Lock, Cardiff, Aliens Vs Wizards promises to be spellbinding television drama for children."

Sander Schwartz, President, Kids & Family Entertainment, FME, comments: "This series has all the ingredients to become a global hit – the extraordinary battle between aliens and wizards is guaranteed to entertain kids around the world, not to mention the incredibly talented team behind the series, led by the wonderful Russell T Davies. We are thrilled to be partnering with CBBC once again on what will be a fantastic addition to FME's ever expanding portfolio of family entertainment brands."
Aliens Vs Wizards
is being produced by BBC Wales in conjunction with FremantleMedia Enterprises.
It is executive produced by Russell T Davies, Bethan Jones and Gina Cronk for the BBC and Bob Higgins and Sander Schwartz for FME. Brian Minchin acts as producer alongside co-producer Phil Ford.
The series is due to air on CBBC in Autumn 2012.
(Source:
BBC Media Centre
)