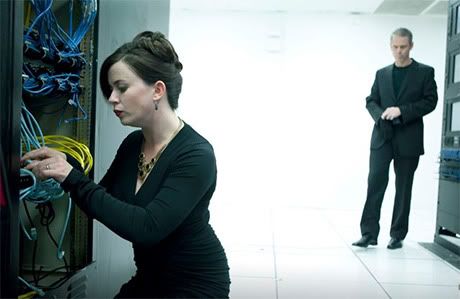 BARB have published the consolidated viewing figures for the fourth episode of Torchwood: Miracle Day.
Escape to L.A. was seen by 5.19 million viewers on BBC One/HD in the UK, making it the channel's 10th most-watched programme of the week.
The rating is considerably higher than the initial overnight figure of 4.0 million.
Unlike the 'overnight' data, the official figures take into account viewers who record the episode and watch it within 7 days of transmission.
The consolidated figures do not, however, take into viewers who have watched the episode online via the BBC iPlayer.
Episode 4 achieved an Appreciation Index of 85. An Appreciation Index is found by surveying a panel of around 5000 viewers to see what they thought of a particular programme. Is is a score out of 100, with the average BBC TV programme getting 80. A score between 85 and 89 is considered as "excellent".
The ITV1 drama series Single-Handed, which was scheduled against Torchwood, drew an audience of 2.93 million viewers.
(Source:
The Doctor Who News Page
)