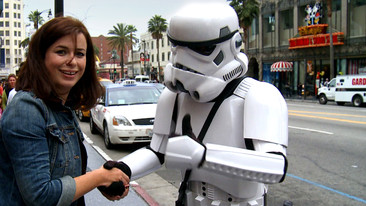 BBC One Wales aired a documentary last night focusing on how Hollywood films have portrayed Welsh people over the years, with contributions from Russell T Davies, Eve Myles, John Barrowman, Julie Gardner, Kai Owen and Michael Sheen.
As Torchwood gets the Hollywood treatment, a look back at the films that have portrayed Wales over the years, stereotypes, cliches and all. Russell T Davies visits the Malibu Park which 70 years ago doubled as South Wales in How Green Was My Valley. Eve Myles takes a trip down the Walk of Fame to find the Welsh stars who have made their mark in Hollywood. Plus two rabbit-stealing men from Maesteg who helped change the face of Hollywood movies.
The programme is currently available on the
BBC iPlayer
(UK only).