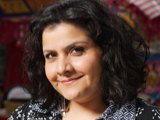 Digital Spy have published a short interview with Nina Wadia, who is making a cameo appearance in Doctor Who: The Eleventh Hour tonight.
Interview extract:
How did the part come about?
"I'd worked with Adam Smith, who is a director of the new series of Doctor Who, before on Skins. I played Dev's mum. I assume that's how I got it, because I worked with him before and we had a blast together. I got a call from my agent saying 'Would you like to be in Doctor Who?' and I went 'Are you kidding?! Of course!' I wouldn't say no to that!'"
What can you tell us about your role?
"The character's different to Zainab, only in the way I dress and the fact that I don't have an Indian accent! She's not a pleasant woman. She's a psychiatric doctor and she's in a very cut suit and harsh glasses with her hair scraped back. She doesn't believe it when Rory, a young nurse, says 'These coma patients are speaking'. I'm going 'Don't be ridiculous, that's not possible.' She's very intolerant of him. Then there's a very surreal moment when it all comes to light that these guys may be coma patients - but they're pretty alert!""
Click here
to read the full interview.