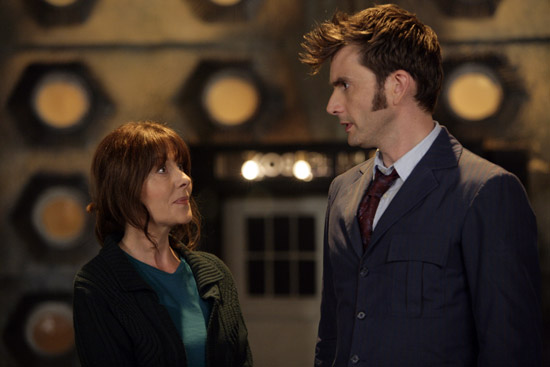 The BBC have released the synopsis for the upcoming Sarah Jane Adventures story 'The Wedding of Sarah Jane Smith', which will guest star David Tennant as the Doctor and Nigel Havers as Peter Dalton along with the regular cast of Elisabeth Sladen, Thomas Knight, Daniel Anthony and Anjli Mohindra as Sarah Jane Smith, Luke Smith, Clyde Langer and Rani Chandra. The story will be broadcast on 29th & 30th October 2009 at 4.35pm on BBC One. The synopsis can be read below;

Overall story summary: "Sarah Jane has met Peter Dalton and wants him to become part of her life; to become a father to Luke perhaps. But Clyde thinks Peter is hiding a secret or two of his own, especially when he and Rani find an empty house where Peter says his home should be..."

Part one summary: "The Doctor returns on the happiest day of Sarah Jane's life - but a deadly trap is waiting for them all! As the strands of a clever and careful plan draw together, can even a Time Lord save Sarah Jane, on the day of her arch-enemy's greatest triumph?"

Part two summary: "The Doctor joins the battle - but is it too late to save both Sarah Jane and the Earth itself? As the power of the Pantheon of Discord grows in strength, the old friends are separated across different time zones, and must fight to save each other - but for one, there's a terrible price to pay."

(Source: Digital Spy)
.